We've always said "Have cameras, will travel." Well, wouldn't ya know, someone took us up on it! We had the exciting opportunity and honor of photographing John and Erica's South Dakota Sylvan Lake wedding in May. Ohmagoodnight-it was a beautiful blast! You already know John and Erica from their killer amazing engagement images. Check em out HERE if you missed out. But, I know THIS is what you've all been waiting for. Without further ado, I give you John and Erica-married!
So the first thing you need to know about the Black Hills in mid May is that you never know what the weather might do. While y'all were sweatin' it up back in KC, we were just a teensy bit chillier. But, nothing stopped John and Erica from loving every minute of their one and only wedding day. This really is up there as one of the sweetest, most sincere first looks ever. They were truly so happy for this moment to finally get here.
Despite the chill, they proceeded with an outdoor ceremony anyway. It had been raining the days before the wedding so the ground was a bit soaked. It turns out that as Erica was walking toward her future husband, her shoes had a different plan. They were not going any further.  Erica tackled that problem the way she does every situation – with grace and some humor. There was no way she was letting that stop her.
John's face says it all. He's so in love with her!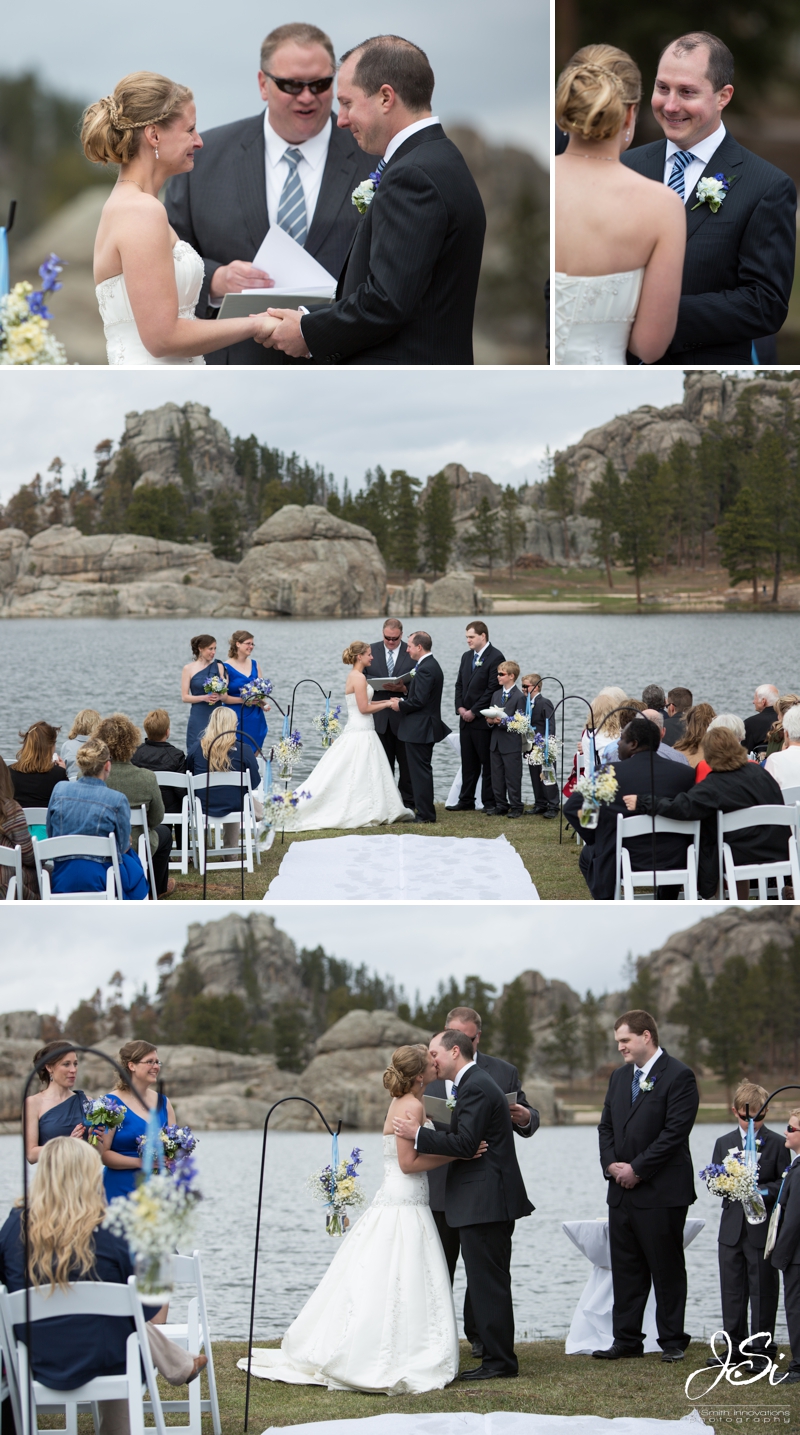 John's thoughtfulness is not to be missed here. You see that wine bottle that says 1982 above? Being the incredible man that he is, he wanted to celebrate by having a vintage from the year Erica was born. Well, turns out, that was a bad year for wine. So, he smartly chose a vintage from the year she was "made." Good man.
Recognize this dance anyone? I'll give you a dollar if you can name it!
John + Erica – Thank you for the chance to be there to capture these and so SO many more moments. We were truly blessed to be part of it. We wish you many years of happiness!
Blessings ~ MIKE + JULIE
 :: VENDOR LOVE ::
Venue | Sylvan Lake & Sylvan Lake Lodge
Photographer | JSi Photography
Dress | Alan Evans Bridal
Cake | Piece of Cake
Florist | Jenny's Floral